As we've mentioned time and again, investing in the best outdoor security camera system is crucial to ensuring maximum protection of your property. It's the first place the burglar will go through before breaking into the building. But then, you must know how to protect security camera from rain or snow to make the most of it outdoors.
Keeping your security camera safe from rain isn't just about making the most of it. The precaution measure also helps ensure your system will hold up when the wet weather comes.
5 Reasons to Protect Your Security Camera from Rain
In this guide, we're going to look at the various ways to protect your security camera from rain. But before we come to that, below are the reasons you really should be serious about this matter:
· Ensure Continuous 24/7 Monitoring
When your security camera is safe from rain, it'll continue to work as intended. Thus, you'll get to watch your property throughout all times of the year.
· Prevent damage to Internal Components
A security camera safe from rain also minimizes the risk of water getting inside the internal components.
· Maintain the Exterior Aesthetics
The rainwater could cause the metallic housing of your security camera to rust if the paint has chipped. In extreme (when the rainwater has acid), the rust can progress to corrosion, then the whole part may end up falling apart.
· Prevent damage to Mechanical Parts
When rust or dirty rainwater clogs the rotary unit of your PTZ outdoor security camera, it may affect the panning and tilting functions. It could also affect the movements of the varifocal lens or the axle of the mounting bracket.
· Avoid Unnecessary Additional Costs
Indeed. If the rainwater causes internal or external damage to your security camera, you'll have to repair or replace it altogether. This will incur additional costs that you may not have.
The 7 Best Ways how to protect security Cameras from Rain
It's so easy to keep your security camera safe from rain. You'll even not need to pay anything, as some of the tricks are quick DIY fixes when using regular items from the house.
Fast forward, we've broken down the seven ways how to protect security cameras from rain into four main methods:
Method 1: Protect the Security Camera from Rain with Quality IP-Rating
The first way how to protect security cameras from rain is to ensure they can withstand severe weather when buying. And what this means is that you should get a weather-resistant security camera from the start if the idea is for outdoor use.
The ingress protection (IP) rating is the standard used to determine the level of protection of electronic devices against outside elements. More precisely, IP rating defines levels of sealing effectiveness of electrical enclosures against intrusion from foreign bodies and moisture.
In an electronic device with ingress protection, you'll see in the specs a rating like IPXY, where the X represents protection against foreign bodies and Y for moisture.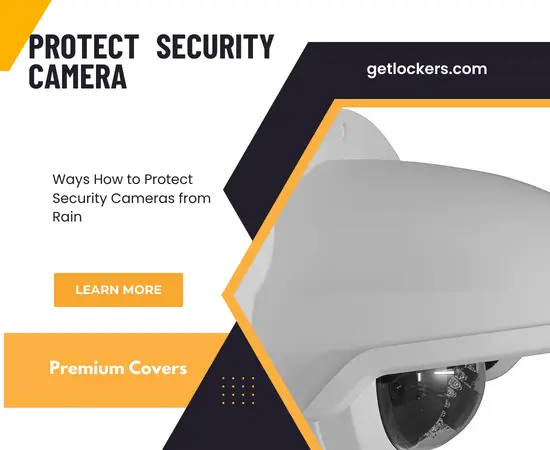 The digit for protection against foreign bodies is usually between 0 to 6, where the larger number has higher intrusion protection. Then the digit for protection against moisture is usually between 0 to 9, where the larger number has resistance against higher moisture pressure.
For instance, you'll come to notice most consumer cold weather security camera systems are usually IP65. And this means the devices have the highest protection against foreign bodies (totally dust tight), plus they can withstand low-pressure water jets (6.3 mm) from any direction.
In the Avertx Vs Lorex review, we saw the two brands have IP67-rated commercial-grade consumer security cameras. IP67 rating means protection against direct high-pressure jets and full immersion (15 cm to 1 meter depth) for up to 30 minutes.
So, when buying a security camera to mount outside the house, make sure it has as higher IP rating as possible.
Method 2: Protect the Security Camera from Rain with Building Shelter
In a nutshell, just because a security camera has the highest ingress protection doesn't mean it's 100% safe from the rain. Many manufacturers are even fabricating the IP rating just to sell their products to a wider market.
So, even with a good weather-resistant security camera, make sure you mount it away from direct rain. Otherwise, you'll end up like those property owners posting pics on the web of their camera lenses loaded with water.
One way to keep your outdoor security camera away from direct rain is to mount it under a shelter. A perfect shelter is under the eaves, which will protect the device from rainwater while still taking care of the building wall.
If mounting the security camera for the front yard, the porch ceiling might work if you could find a perfect position. Then when the idea is to keep an eye on your backyard, you can mount the security camera under the backdoor canopy. You'll just have to make sure the canopy provides a nice cover without jeopardizing the visibility of the camera.
Note: Flat-roofed buildings usually don't have eaves that can protect your security cameras from falling rain. If you intend to mount the camera on the wall, you'll want to create a miniature roof or install a store-bought outdoor awning.
Method 3: Protect the Security Camera from Rain with Premium Covers
Another way how to protect security cameras from rain is to use store-bought rain-proof covers. The covers come in different designs to accommodate all types of cameras (bullet, domed, boxed, or PTZ). You'll want to make sure what you get is a perfect choice.
Unlike eaves or even some awnings, most security camera rain covers sold in stores don't provide total protection against rain. They will only cover the topmost part of the camera while leaving the sides slightly exposed.
It's also worth noting various manufacturers will use different materials to make rain-proof covers. The most common material is polycarbonate while others go for a composite fiber. And even though these materials are great, we'd recommend a rugged, rustproof metallic rain cover for extra durability.
Tip: when choosing a ready-made rain cover/ shield for your camera, make sure its design won't block the camera view when installed.
Secondly, your video doorbell may need a cover if mounted in a place with no eaves, awning, or door canopy. It's also not once we've heard complaints of people who have had their devices "got wet and completely died".
However, make sure the doorbell rain cover you get can offer rain protection without affecting the visibility of the built-in camera.
Method 4: Protect the Security Camera from Rain with DIY Covers
The fourth way how to protect security cameras from rain is to use homemade/ DIY rainproof covers. It's a great choice if you don't want to pay for the ready-made covers from the store.
In the few tricks we've put down, you don't even have to pay anything as the covers can be a makeshift using items from your drawer.
Nevertheless, time is crucial if you want to create something high-quality that will last for several years. It might even take more time to complete the project if you'd want to add a touch of creativity to your DIY cover.
Some of the creative rainproof covers ideas you can make to protect your camera include:
A DIY metal enclosure box is one of the ideas you can have as a cover to protect your security camera from rain. It requires thinking outside the box, as you'll first need to bend the sheet of metal to an enclosure that fits your device. Then bold the joints (to the enclosure box) with either an industrial glue, welding rod, or acetylene torch.
DIY PVC pipe cover for bullet camera is also a nice trick to add an extra layer of protection against rain. You'll first need to cut your 3-inch PVC pipe for about 7 inches in length. Next, cut the piece of pipe lengthwise (in half). Then attach the piece of half-cut pipe on top of your bullet security camera with a gasket maker.
A DIY birdhouse could also make a nice cover for your security camera against rain. You'll just have to make sure the structure is adequate to fit your camera. Then, it should be water-resistant to make sure rain doesn't penetrate the device. (If no time to build, you can buy a ready-made birdhouse and modify it into a shelter for your camera).
The Ziploc bag cover trick can be a nice option if you need a quick fix to protect your security camera from rain. The trick is to replicate the rain covers sold for professional cameras. So, you'll want to grab your polythene bag and cut a hole. Then, slip the camera into the bag with the lens coming out of the hole you made (for an unobstructed view) and close the ziplock of your Ziploc bag.
Final Thoughts:
Well, those are the various ways how to protect security cameras from rain and make sure you get to watch your outdoors throughout the year. The use of the eaves or door canopy is the most effective option, as you just need to install the device.
However, not all buildings have a roof you can mount a security camera under the eaves. Then in some cases, you may have to install the camera away from structures – say like when you want to monitor a driveway, farm, or an ongoing construction projection.
So, ready-made or homemade covers are also a great solution to keep your security camera safe from rain. But whichever of the option you choose, make sure the camera is also water-resistant, as the covers (and even eaves) rarely give 100% protection from rain.