With the growing desire for freedom and being an "own boss", running a business has become of the best source of income. Every year, though, many businesses around the globe usually lose billions of dollars through burglary and shoplifting. Those with one or two of the best security camera system for small business have been able to minimize these cases but most are those who haven't.
Of course, security cameras have become more accessible than before but many owners haven't approved their worth. Once the world teaches them the hard way, that's when they now start thinking of installing the security systems. No matter how small your premise is, it's good to have the devices.
If it's a beauty shop, for instance, you might think that that missing Pedi Scrub Gel is too petty to worry about. But if that shoplifter [probably one of your employees] sneaks away with 2 of them in a week, that'll be 96 gels in a year.
Anyhow, that's why you need to consider adding at least two or four security cameras in your business premise. Whether you are running a minimart, café, or even a garage, the deices are worth to have. Otherwise, how else will you assure your clients their vehicles are safe for "sleepover"?
Best pick at a glance
Recommended  for you
Other Benefits of Installing Security Cameras for Business
Monitor Activity: This is the one we have just talked about using the security systems to check on the activities in your store or shop. Hence, helping prevent shoplifting, break-ins, and vandalism
Deter Theft: Well, if the shoplifter notices you have installed security cameras, she or he won't try sneaking out with your products since there are eyes watching. The same goes for burglars when they see security cameras on your business compound.
Help Cut Insurance Costs: Oh, that's true in case you didn't know. The surveillance systems reduce the risk of theft or damage on your property, thus, prompting your insurance company to compensate you for that.
Create a Safer Work Environment: That's right. With security cameras in your building, including at the entrances, exits, and parking lots, the employees will feel protected and safer to work for you.
Help Improve Employee Productivity: With security cameras on your garage or warehouse, your employees won't sit idle gossiping since they know they're being watched. This improves their productivity and profits.
Cost-effectiveness: with a video surveillance system, you don't need to hire additional security personnel. In case you feel you need extra help, one can be enough if it's a small business.
Also, with security cameras on your business premise, your customers will appreciate you're concerned about their safety. This will enhance their loyalty and that of their friends. Hence, helping improve your profits as well.
The Best Security Camera System for Small Business 2023
---
1. SAFEVANT 8CH Full HD Security Camera System
Updated
---
This piece from SAFEVANT has won the privilege of the first on our list as up to now, none of the buyers has raised an issue. The piece is one of the best security cameras for small business as it's ultimately affordable and very easy to set up. It's a true plug-and-play device.
The SAFEVANT 8CH Security Camera System Kit comes with 4 bullet cameras and a fine NVR, all ready for use. The security system has the wireless peer-to-peer mode that pairs the NVR to the camera aromatically and ready to record.
The cameras SAFEVANT use has a 75° viewing angle and records crystal smooth pictures in 1080P Full HD resolution. Since they [cameras] have 36pcs infrared LEDs, the captured pictures are smooth and clear in both day and night. Hence, guaranteeing you 24/7 high-quality surveillance.
SAFEVANT 8CH is a wireless security camera system, so, you'll not need the complicated wiring if you have an internet connection. For optimal security, the surveillance system has high-performance motion sensors that immediately update you via your smartphone when they sense danger. This is a really great feature, particularly at night when you have closed your business.
Product Features:
The SAFEVANT 8CH is a true plug 'n' play device, hence, very simple and quick to install
It records quality videos with a 1080P resolution and a night vision of up to 60 feet
Comes with a 1TB hard drive for free local storage
Allows you to remotely monitor your shop from anywhere without your employees knowing
The included bullet cameras are IP-66 weatherproof, so, you can use them inside or outside the premise.
Best business security camera system consumer reports
---
2. 
Lorex 4K Ultra HD Security System with 2TB 16-Channel DVR
---
Lorex 4K Ultra HD Security System is a security camera system that records 4K HD quality video; that's more than 8 million pixels of superior detail and definition. With Lorex's exclusive Color Night Vision, you can experience enhanced clarity and capture important details even at night. Also, this systems is weatherproof to handle even the elements – they can operate in temperatures range from 131F/55C down to -40F/-40C.
If you don't have the internet, you can use a wired connection to transmit the video footage. Speaking of the footage, the included cameras produce 4K HD quality video but the DVR itself supports 1080P. As for the night, the HeimVision system provides an excellent night vision up to a range of 50ft. Overall best 4k security camera system for business in 2023.
On top of the infrared night vision, Lorex 4K Ultra HD Security System sends motion-activated alerts to let you know of the burglar sneaking into your storage. The sent alerts have a snapshot attached, so, if it comes to prosecuting you'll have enough evidence against the law-breaker. For the power source, the video surveillance system relies on wired option, hence, offering continuous recording.
Products Features:
Crystal Clear 4K Recording
The surveillance system is very easy to set up and use
Sends motion-activated alerts to your smartphone
Supports remote viewing of your premise from anywhere
Color Night Vision to ensure you capture all the details
Supports up to 2TB of hard drive
The security camera system is remarkably weatherproof, hence, can do very well outdoors
SMART MOTION DETECTION
---
3. Hiseeu WNKIT-4HB612 Wireless Security Camera System
---
Sale
Hiseeu WNKIT-4HB612 is a best security camera for business as it lets you monitor your office with perfection. It has upgraded H.265 video compression that makes sure that you get a smooth HD video with low bandwidth. Hence, helping save on the space of your system.
The Hiseeu video surveillance system has a high-performance NVR recorder that you can link with up to 8 cameras. Thus, guaranteeing your electronics stores maximum security since you can see what is happening outside and inside it. For a much better experience, the security camera system has one-way audio that captures the conversations on the background. Thus, keeping you on the hook of every evil planning by some of your employees.
In the box, Hiseeu WNKIT-4HB612 comes with powerful 2 MP security cameras with 78° viewing angle and 3 array infrared LEDs. Hence, promising you better coverage on your workplace and in every time of the day. For optimal effectiveness, the cameras record only when they detect movement and alongside it, they send alerts to your smartphone.
Hiseeu WNKIT-4HB612 is a plug and play wireless security system, thus, very simple and quick to install on your own. The system works with a wired power source to guarantee you uncut surveillance.
Product Features:
Hiseeu WNKIT-4HB612 is a wireless video surveillance unit, hence, simple to set up without hiring a professional
It records crisp smooth videos with 1080P resolution
Has an outstanding night vision of up to 100ft
It sends motion-activated push notifications
The system kit includes a 1TB hard drive to store recordings for future reference.
It allows you to remotely view your business from anywhere using your smartphone, tablet, or laptop
The provided security cameras are IP66 waterproof, hence, can operate in harsh environmental conditions without damage
---
4. Reolink RLK8-410B4 PoE Surveillance System
---
Reolink is a reputable brand with a high global rank for having some of the best security camera system for small business. With the RLK8-410B4 Surveillance System, for example, its NVR system records magnificent 4MP images and 1440p videos. The pictures are super-clear both day and night since the system features a modern infrared night vision that can see up to 100ft in total darkness.
Reolink RLK8-410B4 PoE Surveillance System is fit for all types of business ventures, be it small or large. It's an 8-channel system, so, you can connect with 3 indoor cameras and other 4 for extra security on the outside. For optimal convenience, Reolink offers the security system with a built-in 2TB hard drive to store the recordings locally. The system can automatically overwrite the old data, so, you'll never have to worry about missing the latest recordings.
Reolink RLK8-410B4 operates via a PoE connection, so, it's very simple to set up as an own DIY project. Once you connect the system's NVR to the router, you can enjoy remote access using your wifi-enabled or 2G, 3G, and 4G mobile device.
You also interest: Reolink security camera system review
Product Features:
Reolink RLK8-410B4 is a wired security camera system but one you don't need a professional to install for you
It features 4MP cameras with 80° viewing angle for an extended 1440HD coverage
The cameras have 18pcs IR illuminators with 100ft night vision
Has advanced motion detection, whereby you can customize the feature to the most effective zones [ like entrances/ exists]
It sends smart motion alerts immediately they capture movements
The Reolink camera system is flexible as you can perfectly use with 5MP and 4MP PoE or Wi-Fi IP cameras.
---
5. ANNKE 8CH 1080P Security Camera System
---
Sale
While it still hasn't attained a high worldwide recognition, ANNKE was established by the global icon and movie star Jet Li. The security technologies company debuted in 2014 and it's an excellent alternative brand of security camera systems for business.
If we can have a look at this 8-Channel 1080P Security Camera System, for instance, the piece holds a 5-star rating from over 400 amazon shoppers. Amongst the top-best features which have facilitated this ranking is the included cameras that allow you to monitor your business store in fine, crystal clear images. The cameras have 82.2° viewing angle and a stunning night vision of up to 100 feet.
ANNKE 8CH Security Camera System is remarkably reliable as you don't have to be at your office to use it. Once you connect it with the internet, you can enjoy crisp live viewing and playback on your Android/ ios device from any location.
The system has very sensitive motion sensors that facilitate recording only when there is a moving object. This helps save on the space of the built-in hard drive and keeps you updated on the current happenings with instant motion-activated alerts.
Product Features:
ANNKE 8CH Security Camera System is very reliable and convenient for your business security
It features 8x weatherproof CCTV cameras with 82.2° viewing angle and infrared night vision
Allows remote access, including live view and playback, with the free ANNKE VISION APP
Sends real-time motion alerts and snapshots
Comes with 1TB hard drive for storing the recordings with no subscription fees
The security camera system guarantees you maximum safety and privacy while using
---
6. OOSSXX HD Security Camera System
---
If you're looking for an affordable security camera system for your deli shop, this piece by OOSSXX creators can make a good company. The system includes 8-channel Network Video Recorder that you can use with either 720P or 1080P wireless cameras. As a matter of fact, the reputable brand offers it with 4x 720P security cameras that are IP67 waterproof. Hence, you can use to monitor the activities inside and outside the premise without the fear of rain, snow, dust, or high temperatures.
Both the NVR and cameras in the OOSSXX HD Security Camera System kit has built-in wireless antenna. So, you need not worry about the wiring for video transmission since the pair communicate automatically and wirelessly after plugging into power outlets. As such, the whole system is very simple to install and setup on your own.
OOSSXX HD Security Camera System supports remote access and it even sends motion-activated alerts. Thus, you can continue with your Full-time job without worrying about how your employees at the deli shop are doing. The best security cameras for small business.
Product Features:
OOSSXX HD Security Camera System is affordable, convenient, and reliable
It includes a 1080P NVR that you can connect with up to 8 security cameras.
The NVR and camera links via a Peer-to-Peer connection, so, you don't need to bother with cabling for video transmission
The system works with a wired power source to guarantee you continuous surveillance as long the power grids remain alive
It sends motion alerts with a real-time snapshot to your smartphone or email
Supports remote viewing on mobile devices and PC
The entire security camera system is a True Plug-and-Play, thus, a simple DIY project when installing.
---
7. OHWOAI HD Surveillance Video Security System
---
This is yet another best video surveillance system for small business that you can get for your small business even though it's primarily for a larger business. The system is a plug-play model as well, so, you don't need to waste that $50 or $100 hiring an installer.
OHWOAI HD Surveillance Video Security System comprises of a 1080P NVR and x8 wireless IP cameras. Each of the cameras is made of sturdy IP67 casing, which ensures you can use the systems outdoors without worrying about rain or snow damage. As for the performance, the cameras have a 3MP lens with a 72 viewing angle to cover more of your grounds with sharp, colorful daytime pictures.
For the nighttime, the OHWOAI HD Surveillance cameras have 36pcs infrared LEDs [each] to make sure you can clearly see your assets in darkness. In case a trespasser tries sneaking in, the devices have excellent motion detection that sends alerts and pictures to your email.
OHWOAI HD Surveillance Video Security System comes with a 6TB hard drive disk that can keep continuous recordings of up to 90 days. For a better experience, you can even add the camera system with accessories like Wi-Fi extender or extended antenna.
Product Features:
OHWOAI HD Video Security System features 1080P NVR and surveillance cameras with a 3MP lens
The system is plug-play and connects automatically, hence, very simple and quick to set up
Cameras have powerful infrared LEDs to ensure fine and clear recording in darkness
The security camera system supports remote viewing with multiple devices
Also, the system sends motion alerts, hence, allowing you to act before the burglars break into your property.
---
8. Cromorc CwssE2-2 Home Business CCTV Surveillance System
---
This is the best security camera for a small businesses such as a beauty shop where you don't need a large viewing screen. The security device has an attached 10.1" LCD screen that you can use to directly view the footage.
Cromorc CwssE2-2 CCTV Surveillance System is a plug-and-play device that auto-connects the NVR to the camera without using video cables. For a successful pairing, though, both the camera and NVR have to be plugged into the power outlets, which, of course, will also guarantee continuous recording.
Cromorc CwssE2-2 surveillance cameras produce crystal-clear HD video showing every detail with clarity. The included cameras have 1.3 MP lens with 960P video resolution. Since the NVR is 1080P HD, however, you can upgrade the cameras later for a better experience.
Still, all the Cromorc cameras have infrared night vision to support 24/7 surveillance.
While you might not need a lot of security cameras in a small business, Cromorc CwssE2-2 Business Surveillance System supports up to 8 of them. The system does support remote viewing and also sends motion alerts with snapshots to your smartphone and PC. Thus, ensure no activity ever happens on your premises without you knowing.
Product Features:
The surveillance system features a 1080P NVR with a 10.1" color screen to directly view the recordings
Both the NVR and camera has a built-in wireless antenna, hence, no need to hook any video cable
Features customizable motion detection, which also sends alerts with snapshots to your email
It supports remote viewing with iOS, Android, and PC from anywhere
The Cromorc Surveillance System comes with 1TB Hard Drive to store the captured recordings.
---
9. SMONET 5-IN-1 Super HD Security Camera Kit
---
This is another incredible best video surveillance system for small business that you'll find amongst the best security camera system for small business in the market. The kit is designed to cater to your tight budget with optimal effectiveness and convenience.
SMONET 5-IN-1 Super HD Security Camera kit comprises of one 8-channel DVR, 4x bullet cameras, and the essential installation tools. The camera requires wired power input and cable connection to transmit the video signal to the monitor. Don't worry, the installation process is not that complicated since there's even a user manual. But in case you feel uncomfortable doing it on your own, you can hire a professional to set it up for you.
Designed to help monitor your business to a professional extent, the SMONET Security Camera System captures 5MP pictures with 1080P resolution. The included surveillance cameras have an enhanced infrared night vision of up to 65feet. Thus, ensuring you have colorful videos during the day and extra clear recordings during the nighttime.
While it's a wired security system, SMONET 5-IN-1 Super HD Security Camera System does support remote access. All you need to do is connecting the DVR system to the router with a network cable. Then, you download the "P6SPro" or "P6SLite" smart app on your smart device.
As a product of contemporary technology, the SMONET Camera System features customizable motion detection, allowing you to focus the feature on specific areas. This helps you to have a close watch on the most important areas and also reduce the instances of false alerts.
---
10. Arlo Pro Wireless Security Camera System
---
Sale
While the majority of users have bought it for the security of their home, Arlo Pro is a security camera system for the workplace as well. In fact, the wireless camera system can be a great piece to spy on your employees without them knowing. It's tiny in dimensions [3.1 x 1.9 x 2.8 inches] and runs on rechargeable batteries, allowing you to mount it anywhere with a clear view.
Despite its tiny size, though, Arlo Pro Wireless Security Camera System has a 130° wide-angle view and 25ft infrared night vision. The built-in camera records 720P HD videos, thus, ensuring you get to see every activity perfectly and clearly.
To make the surveillance more convenient and interesting, Arlo Pro Camera System has a built-in mic and speaker. This allows the system to capture live recordings with both fine crisp images and audio. As a wireless camera system, the Arlo product sends motion and sound-activated alerts to your mobile device. In case you notice a burglar has triggered the alerts, you can remotely activate the built-in smart siren to scare him away.
You may also interest: Arlo Pro vs Arlo Pro 2
Product Features:
Arlo Pro is one of the bestselling wireless security Camera System on Amazon followings its reliability and convenience
It's 100% wire-free, thus, you can install in any position
Features a 130-degree wide-angle lens for extended coverage
The system produces vivid HD videos and quality night vision
It features a smart siren and 2-way audio for enhanced security
Lets you enjoy remote viewing and free secure cloud storage
The wireless security camera is IP65-certified weatherproof, hence, you can even use it for outdoor surveillance
---
11. ZOSI HD-TVI Security Camera System w/ 1TB Hard Drive
---
To begin with, ZOSI HD-TVI Security Camera System is remarkably cheap, hence, it can be a good piece for a young consumer. The security camera system is 1080P FHD to help watch over your business with crystal pictures day and night.
ZOSI HD-TVI Security Camera System can connect with up to 8 surveillance cameras. Thus, allowing you to monitor your business interior and outdoors via a single unit. Upon purchase, the security camera system comes with 4x 2MP bullet cameras with up to 65ft infrared night vision. In case you require more eyes, the system allows you to add 720P or 1080P Bullet and dome cameras.
Different from the majority of security systems on the market, ZOSI HD-TVI has four different recording modes to opt for. They include continuous, scheduled, motion-activated, and Recycle recording. With the latter, the mode allows your DVR to overwrite the oldest video files when recording.
Product Features:
ZOSI HD-TVI Security Camera System produces 1080P videos with excellent infrared night vision
It supports both local and remote viewing
Has advanced customizable motion detection
Comes with 1TB hard drive to store recordings locally
Features four optional recording modes
The included bullet cameras are ultimately weatherproof to facilitate outdoor use.
---
12. SMONET 4CH Wireless Security Camera System
---
This is a smaller version of the SMONET 5-IN-1 Security Camera Kit that allows you to connect with only 4 surveillance cameras instead of 8. Just like its counterpart, the security camera system transmits video wirelessly, thus, you need not to worry about any other cabling apart from that of power.
SMONET 4CH Wireless Security Camera System has a video resolution of 1080P HD to let you monitor your business with fine crystal clear images. The device's camera has 3pcs infrared LEDs [each] to make sure you get clear footage in total darkness. On top of 24-hour surveillance, the security cameras are IP66-rated weatherproof, hence, guarantees efficient use even in harsh environmental conditions outdoors.
SMONET offers the 4-Channel Security Camera System with a pre-installed 1TB hard drive for storing the recordings locally. The video surveillance system can function with and without the internet. So, we can't say it's not reliable in the performance aspect.
Connecting the SMONET system with the internet, nonetheless, is more convenient as you'll get to enjoy remote access from anywhere using your mobile device.
Product features:
The Security system connects wirelessly, hence, no need to worry about video cabling
It captures 2MP pictures at a resolution of 1080P
Features 1TB hard drive that guarantees 24/7 secure recording and local viewing
The surveillance system guarantees your assets maximum protection with excellent motion detection and email alerts
It supports remote access via IP Pro App [for smartphones] and "Eseecloud" software for Laptop/
PC. Thereby, helping keep an eye on your business from anywhere and at anytime
The surveillance cameras that come with the device are IP66 weatherproof, so, you can use them outdoors or indoors
---
Buying Guides: Choosing the Best Security Camera System for Small Business
Like we stated while starting our discussion, shoplifters and burglars usually pull down business owners real bad. For the owners who have installed security camera systems on their premises, though, the number of losses they incur is minimal and even in some cases none at all.
From the above best security camera system for small business reviews, we have shared with you various products that you can choose. Each business is often unique and that's why we have opted to include 12 different systems so that you can pick the best for your needs.
While looking for a good security camera system for your business place, nonetheless, there a few aspects you ought to consider for optimal effectiveness. They include-
As you set out to get a security camera for business, you have to understand the systems usually come in different styling. If it's the surveillance cameras, you'll come across names like Bullet, Dome, and Wireless Cameras. Each type of camera has its own advantages, with the wireless cameras being a favorite of many since you can remotely access their footage from anywhere.
Once you have decided on the type of surveillance camera you need, the next thing you need to do is determine the features. Just like your business which is unique in its own way, so are the security cameras. While there are those distinctive attributes the system will have, there are some you will come to notice are similar to that of other systems in the same ranking. These are the key features we are talking about and they include:
Field of View– This is a measure of how far a surveillance camera can see and record. With a system that has a wide field of view, you get a large coverage [or otherwise, a big picture view]. For the narrower field of view, you get to see less of the scene but the quality of the image is higher and with greater detail.
Picture Quality– The majority of the new cameras on the market record vivid 1080P Full HD resolution. There are others, though, which offer 4K Ultrahd and even 720P resolution.
NB: As you choose a camera by the picture quality, do remember that super high-quality resolution requires more bandwidth and space storage.
Night Vision– infrared night vision is a feature in almost all security cameras since you need to monitor your property in daytime and nighttime. Every camera system usually has its unique night vision range but Dome cameras tend to have a higher range than most of the other systems.
Motion Detection– While you'll find security cameras without, motion detection is a feature becoming common due to its effectiveness. The feature is very essential as it helps record footage when the built-in motion sensors detect movements. For a better experience and help reduce instances of false alerts, you can get a surveillance camera with advanced customizable motion zones. A good example is SMONET 5-IN-1 Super HD or Cromorc CwssE2-2.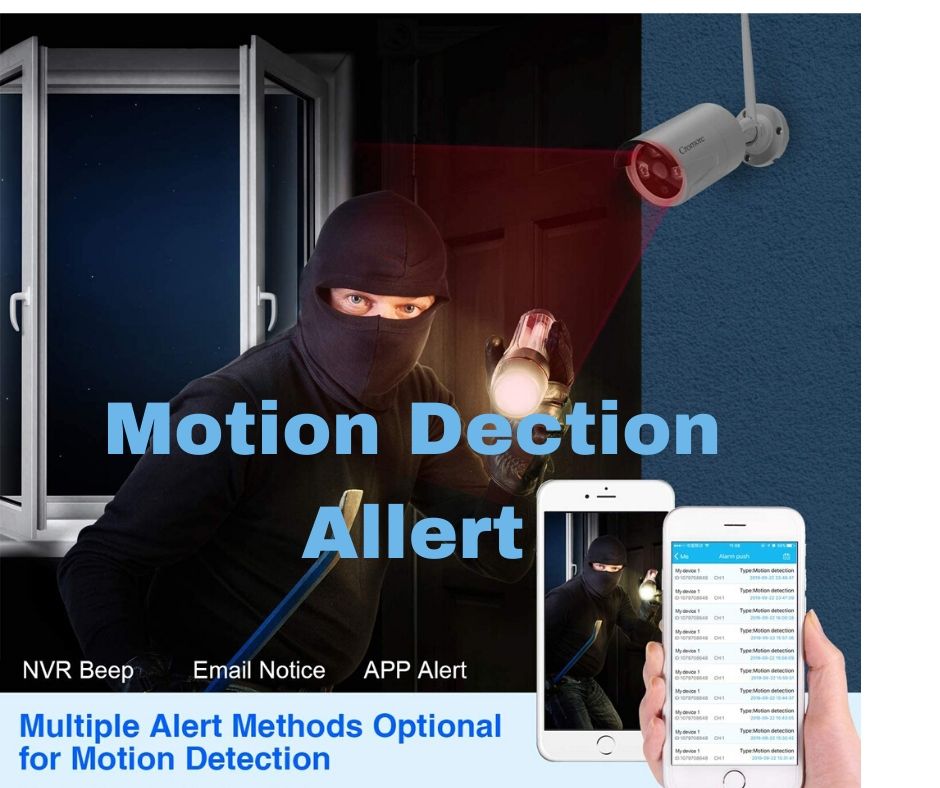 Remote Access– Although not all security cameras support it, Remote Access is a great feature to focus on since it allows you to monitor your assets from anywhere. You get to live view footage from your mobile device and if the camera has two-way audio you communicate with the person on the other end.
Alerts– This features works on security camera systems with motion detection or that can capture audio. Once a movement/ sound triggers the camera you get a push notification with a snapshot in your email or smartphone.
Storage– Well, if you want to access the recordings from your system later, you need to have a place to store all that data. Although there are several methods to store footage, all the best security camera system for small business we've discussed use either a hard drive or cloud service. Each of the two has its ideal benefits. So, it's good you learn about them before finalizing the purchase of your favorable system.
These, on the other hand, are those features that you'll find in only select models of video surveillance systems. Some of them include:
Two-way audio– The reason we have included it here is that not all camera systems have it as audio surveillance is even illegal in some states. Nonetheless, the feature is really helpful as you can remotely establish a conversation from anywhere with the person on the other end.
HDR– High Dynamic Range [abbreviated HDR] is a feature in some cameras to help capture clear images in scenes with a lot of contrast.
Smart Sirens– The feature is in wireless security systems like Arlo Pro and its purpose is to help scare the trespassers on your property. Thus, preventing a break-in or vandalism before it happens.
Smart lights– They're just like the smart siren where they help deter crime or else scare away the burglars.
Voice control via Alexa or Google Assistant– Many of the upcoming security cameras systems support the feature so as to guarantee you hand-free control. The feature, though, is only possible with wireless security cameras.
While it's important to protect your property, you have to understand your security can be seen as a violation of privacy by another. With the recording and transmitting of audio, for instance, various states [including Washington] prohibit it.
Also, the rules for home security cameras may vary with those governing commercial property. So, it's important you familiarize yourself with the laws from both cases before you make a decision on the security camera to get.
Finally, as you determine on the security camera system to get you to have to remember each of them has its own installation process. There are those that work with a wired connection and there are those which connect wirelessly.
The wireless surveillance cameras systems are the best when it comes to installation and setup. With the systems, you really don't need to hire a professional installer to help you, hence, saving you from unnecessary expenses.
Final Verdict On The Best Security Camera System For Business
No matter which type of business you're into, we duly hope now you have now seen the importance of installing security cameras. When the surveillance systems are there, you not only help protect your valuable assets from theft and vandalism. A security camera can also lower service fees [including insurance] and gives you peace of mind since you know you have nothing to worry about.
With the 12 best security camera systems for small business that we have reviewed, we hope now you have been able to choose a perfect one for you. The brief buying guide we've added was for that purpose since hoped you might be new to the market of security camera systems.